Concrete Driveway Repair in Durham
Cracked, sunken, and uneven concrete in your driveway doesn't have to spell doom and gloom for your driveway or your budget. Restore your concrete driveway's appearance and structural integrity by contacting our Durham concrete driveway leveling and crack repair service experts at Regional Foundation & Crawl Space Repair. Our skilled technicians can restore your driveway to its original position and repair any unsightly cracks with a quick and affordable repair solution.
For free estimates on our Raleigh concrete driveway repair services, we service North Carolina, including Durham, Fayetteville, Greenville, Rocky Mount, Henderson, Elizabeth City, Apex, and surrounding areas.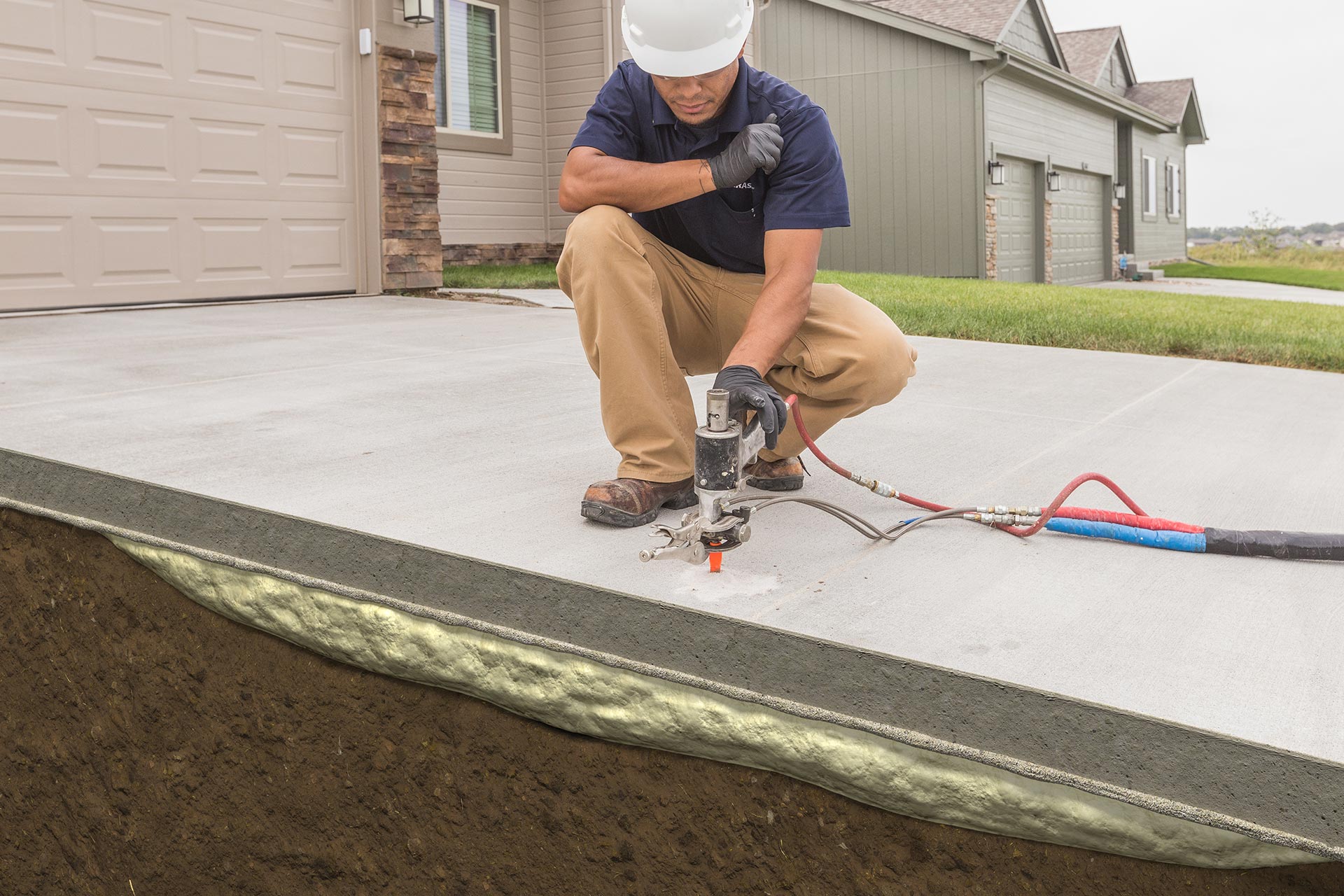 How Does Concrete Sink in Your Driveway?
When signs of damage start to appear, there's no need to tear out and replace your entire driveway. The soil beneath driveways, sidewalks, and walkways settles and adjusts over time. Soil erodes naturally, disrupting the surface of the concrete. The absence of soil underneath creates empty pockets, and the concrete breaks and settles into those pockets, creating visible cracks. Controlling water saturation around your driveway can help prevent some soil issues. Clogged gutters, downspouts, and yard drainage problems can cause water to pool and puddle around or on the driveway, accelerating soil erosion and causing your driveway to sink and crack. Heavily weighted items such as RVs, storage containers, or parked vehicles can also cause cracks to appear over time. It's important to note that a sunken driveway near an attached garage could be a symptom of a settling problem that could also affect your home's foundation, so it's important to have our experts conduct an inspection to identify the cause of your cracked or unlevel driveway. After determining the cause, we can provide long-lasting repair solutions so you won't have to deal with the same problem again!
Our Durham Driveway Repair Experts Can Level Your Driveway
Our team of concrete driveway repair experts in Durham can level your driveway and restore it to its original position. We can lift and level the concrete and repair any cracks that have formed. We use the PolyLevel® system to level the existing concrete and prevent any further damage. PolyLevel® is a polyurethane foam that is injected through small holes drilled into the concrete. It then expands and hardens, returning the slab to a level position quickly, effectively, and for a lot less money than a full driveway replacement!
You don't have to live with a sunken, cracked driveway. Contact Regional Foundation & Crawl Space Repair today for a free estimate on our Durham concrete driveway repair services!
Call or contact Durham's concrete driveway leveling experts at Regional Foundation today to schedule your free estimate if your driveway is sinking or settling.