Wall Repair Systems
Are your foundation walls starting to buckle, bow, or tilt inward? You're seeing the effects of outside pressure from the surrounding soil pushing inward on your foundation walls. Thankfully, bowing or leaning foundation walls can be fixed with the right foundation repair contractors on your side.
You can enjoy permanently stabilized and supported basement walls with Regional Foundation & Crawl Space Repair and the PowerBrace™ Foundation Wall Repair System.
Our PowerBrace™ Foundation Wall Repair System requires no outside excavation to install. All components of the system are coated with zinc to resist rust. Once installed, the PowerBrace™ Foundation Wall Repair System boasts a neat, clean appearance and does little to disrupt your basement space.
Best of all, we can tighten each beam to straighten and restore bowing or tilting walls over time.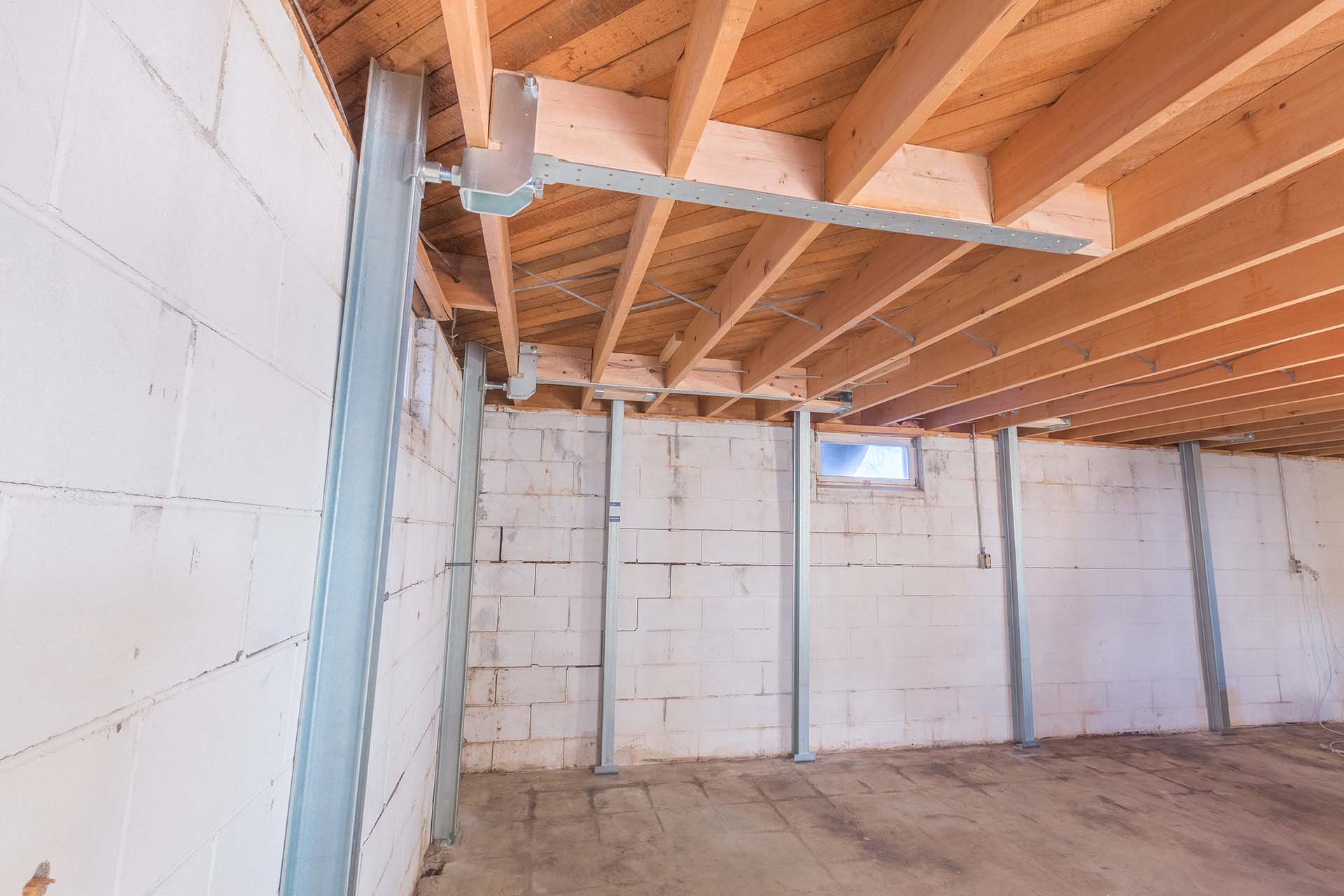 Reinforcing Bowing or Buckling Foundation Walls
In most situations, we recommend bracing your bowing or buckling foundation walls with Geo-Lock™ Wall Anchors. However, if accessing the earth outside the foundation isn't an option, we can use the PowerBrace™ system instead. This system is perfect if, for instance, property lines get in the way of excavation.
Our foundation repair experts will examine your damaged foundation to see if the PowerBrace™ system is right for your home. The PowerBrace™ system uses a patented design specially designed to straighten and stabilize bowing or buckling foundation walls over time.
Installing the PowerBrace™ Wall System
We can install the PowerBrace™ Wall system quickly and efficiently without disruption to the outside soils or landscaping. Once installed, the PowerBrace™ wall system will permanently halt the inward movement of your foundation walls. Installation is broken down into a five-step process:
Cutting Wall Braces
The PowerBrace™ wall system uses steel I-beams as the basis for the support it provides. These I-beams are coated in zinc for lasting rust resistance. Our foundation repair experts will cut each beam to size before installation.
Securing Floor Joist Hardware
We will attach the top of each brace to a floor joist nearest the mudsill at the top of the wall. This bracket is bolted to the floor joist. It contains a large bolt for tightening and adjusting once the installation is complete.
Fine-Tuning PowerBrace™ Positions
Using a level, your contractor will fine-tune the position of each I-beam to be perfectly vertical. This alignment gives each I-beam the lasting performance it needs to support your wall.
Attaching Braces
Each I-beam is attached to the concrete floor slab with a bolt-in-place bracket to complete the installation of the PowerBrace™ System. Once complete, the PowerBrace™ System will span the entire height of your walls.
Straightening Walls
Using the patented adjustment mechanism included with the PowerBrace™ System, we can attempt to force your foundation walls back toward their original, vertical position.