Below Floor Drain Pipe
One of the most effective ways to keep your basement dry is by installing a basement drainage system. One of the best basement drainage systems is the WaterGuard® System. The WaterGuard® System is an award-winning below-floor drain that sits on top of a drainage stone bed.
By installing the WaterGuard® System above the foundation footing, we keep it out of the "mud zone," where clogs are most commonly formed. Combined with the large drain openings of the WaterGuard® System, there's no need to worry about clogs.
The WaterGuard® System is our most recommended and most widely used drainage system. With its clog resistance and easy-access service ports, the WaterGuard® System far surpasses any competing drainage systems.
For your peace of mind, we provide you with a lifetime warranty, in writing, once our work is complete. Should you ever decide to sell the home, that warranty will transfer to the new owner, giving your home even more value.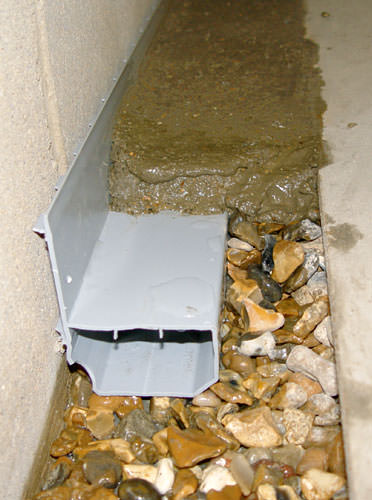 Capturing Water from Wall Cracks
Basement walls can leak from a number of areas, including cracks or gaps around pipes or wire penetrations. To capture the leaks from these areas, we can use the FlexiSpan® Wall Crack System and our WellDuct® Window Drain to direct water to your WaterGuard® System.
Leaking Concrete Block Walls
If you have a block wall foundation, you might already know that water can fill the cavities in your blocks. When that happens, water seeps through the walls. To fight this, we can drill "weep holes" into each and every block so that the water will drain out into your WaterGuard® system for disposal.
Free Estimates on Below Floor Drain Pipes in North Carolina
Call or contact Regional Foundation & Crawl Space Repair today to book your free, no-obligation estimate for below-floor drain pipes! We're ready for your call.