Helical Pier Installation
If your home is experiencing foundation settlement issues, Regional Foundation & Crawl Space Repair can help. To provide permanent support for your North Carolina home, we use foundation helical piers to connect to strong supporting soils or bedrock far beneath your home.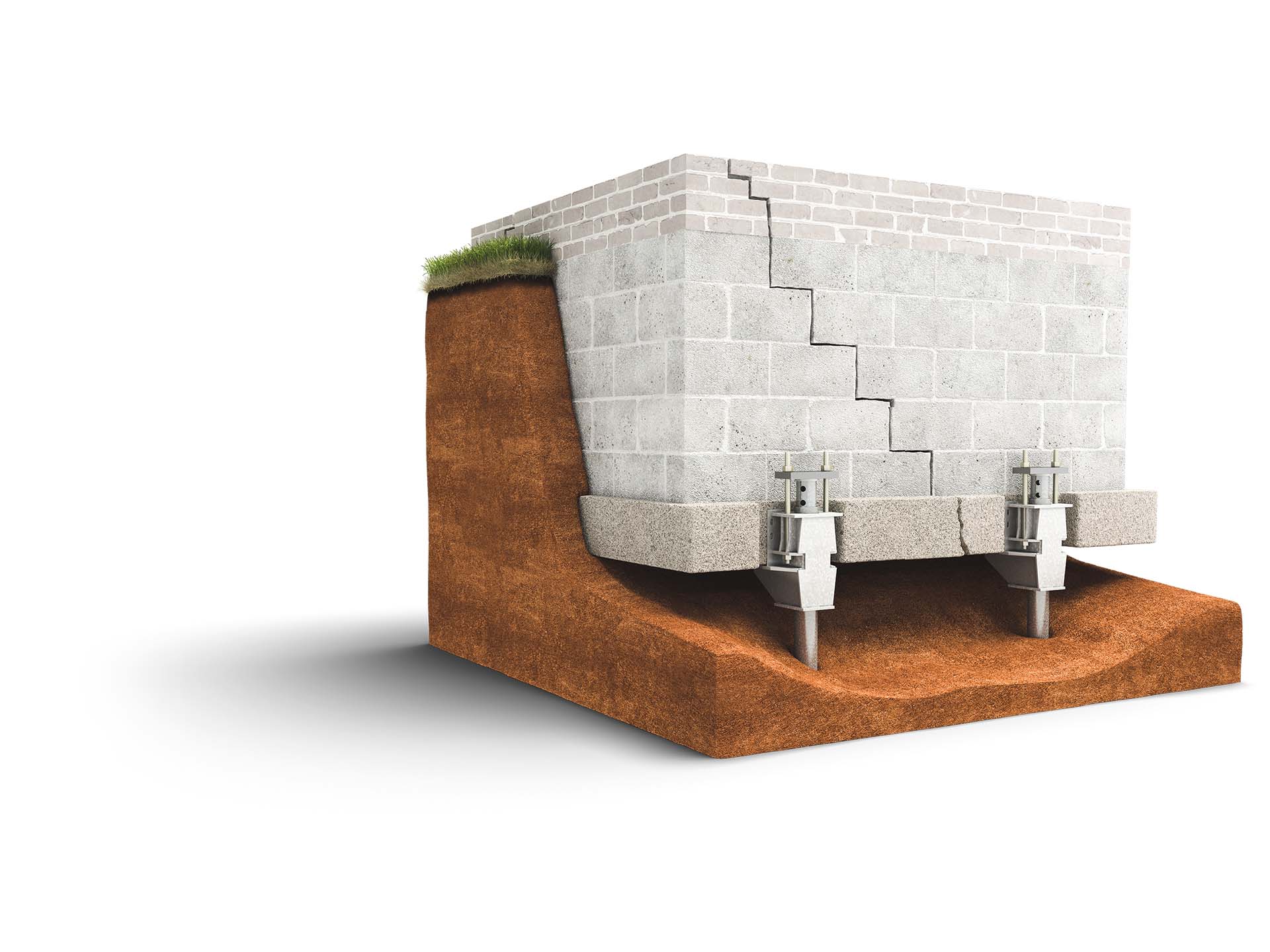 What Helical Piers Can do for You
Our foundation contractors can stabilize settling foundations with helical piers by transferring your home's weight to load-bearing soils. Helical piers are made of strong, durable steel with helical plates welded to the shaft to help pull each pier into the ground during installation.
During installation, our contractors can measure the turning resistance of each pier as they are driven down to determine when each pier has reached load-bearing soil. Once in place, each helical pier is connected to your foundation with steel brackets. Helical piers offer the following advantages:
Below-grade solution not visible after installation
Warranty included with the installation
Easily installed any time of year
Installation possible from inside or outside the structure
Stabilizes both light and heavy structures
Corrosion-resistant galvanized steel
Rugged foundation bracket design
Innovative steel sleeve avoids warping
High resistance to bending
Lifts foundation back to the original position
If your home is experiencing foundation settlement issues, don't hesitate to call Regional Foundation & Crawl Space Repair for a free foundation repair quote.
Helical Pier System Installation
These foundation helical pier systems provide a permanent solution for stabilizing settling and sinking structures. Our foundation repair experts will work with you to inspect your home and create a free quote on helical pier installation. Our system is customizable for the foundation and soil conditions that make your home unique.
Foundation Footing Preparation
There are two ways to install your helical piers. We can install them from the outside or inside of your home. To install outside, we must first excavate the soil around your foundation. This process exposes the footing at each pier location so we can begin work.
To install inside, we will remove a section of your slab floor to expose your foundation's footing. Don't worry; we always restore the slab after installation is complete. Once exposed, a section of the foundation footing is cut away, so the steel bracket connected to each pier will provide direct support.
Helical Shaft Installation
Once the footing is prepared, we will mechanically drive each steel helical pier into the soil until reaching the load-bearing ground. If necessary, we can attach extension shafts to go further below your foundation. Our foundation helical piers are constructed of galvanized steel and are corrosion-resistant.
Foundation Bracket Installation
Because helical piers do not require the heavy weight of the structure to be driven into the soil, we can push them down fully and completely before attaching foundation brackets. Once all foundation helical piers are in place, we attach steel brackets to each pier and then attach each pier to the foundation footing.
Lifting and Restoring Your Foundation
Once we've completed the installation of your helical piers, your home is permanently protected against future settlement issues. At this point, we can determine whether it's possible to lift your foundation back to its original level position.
By lifting your foundation, cracks in your foundation can close, and all of your doors, locks, and windows can function normally once again.
Book Your Free Helical Pier Estimate Today!
Regional Foundation & Crawl Space Repair installs helical piers in North Carolina. If your home is experiencing settlement issues, call us today to schedule your free estimate!