Basement Drain
A leaky basement is a problem that doesn't just go away. In fact, it only seems to get worse over time.
One of the worst things about a leaky basement is how reliable the leaks are. If the skies are gray, you can bet your basement will get wet if it rains. To keep your basement dry, no matter what, the best thing you can do is install a drainage system along the inside perimeter of your basement floor.
With a basement drain, you won't have to worry about the cost or damage to your yard when dealing with external drainage systems. An interior drain will cost about half as much and only takes one to two days to install.
How Basement Drains Work
To install your basement drain properly, one of our expert waterproofers will run a drainage system along all leaking walls. For best results, we will install this drain system along the entire perimeter of the basement or crawl space.
As the drainage system captures water, that water is directed to a sump pump. The sump pump will discharge water away from the home.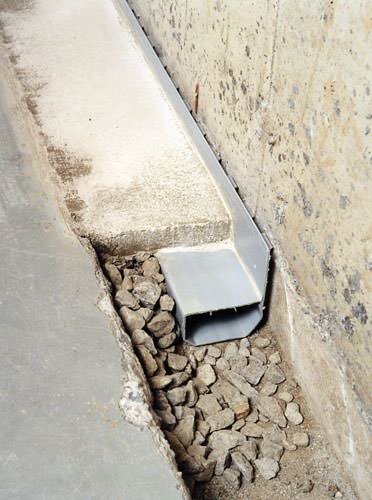 The Benefits of Our Interior Basement Drain Systems
Because every basement is unique, you need solutions that are reliable even in unusual situations. Here are the ways our drainage systems outperform competing systems:
Clog-Free Drainage
Our drainage systems don't sit in the mud underneath your home and use a bed of stone to keep the system clean. You won't ever have to worry about clogs or dirt getting into your drainage system.
Frozen Discharge Line Protection
Outdoor drains and discharge lines are more vulnerable to freezing temperatures during winter. A special grated opening on your discharge line will allow water to escape in case of freezing.
Built-in Wall Drainage
Because basement walls can leak in a variety of ways, our drainage system is designed to capture leaking water and direct it through your drainage system.
Easy-Access Port
Basement Systems' WaterGuard® Ports allow direct access to the drainage system and can be used to create a drainage path for your dehumidifier.
Baseboard Waterproofing System
If your home features a monolithic foundation, jackhammering a trench isn't a great option. Instead, we can install a baseboard drainage system on top of the basement floor.