Concrete Driveway Repair
Discovering cracked, sunken, and uneven concrete in your driveway can really put a damper on your day. Thankfully, dealing with it doesn't have to be overwhelming or difficult.
Regional Foundation & Crawl Space Repair can easily repair your concrete driveway in Raleigh today. Instead of expensive and messy replacements, we can level the concrete and restore it to its original level position. There is no need to tear out or replace your concrete. Our team in Raleigh repairs concrete cracks as well.
To repair your concrete driveway in Raleigh, Regional Foundation & Crawl Space Repair uses a proven and reliable process known as PolyLevel® to lift the existing concrete slab.
For free estimates on our Raleigh concrete driveway repair services, we service North Carolina, including Durham, Fayetteville, Greenville, Rocky Mount, Henderson, Elizabeth City, Apex, and surrounding areas.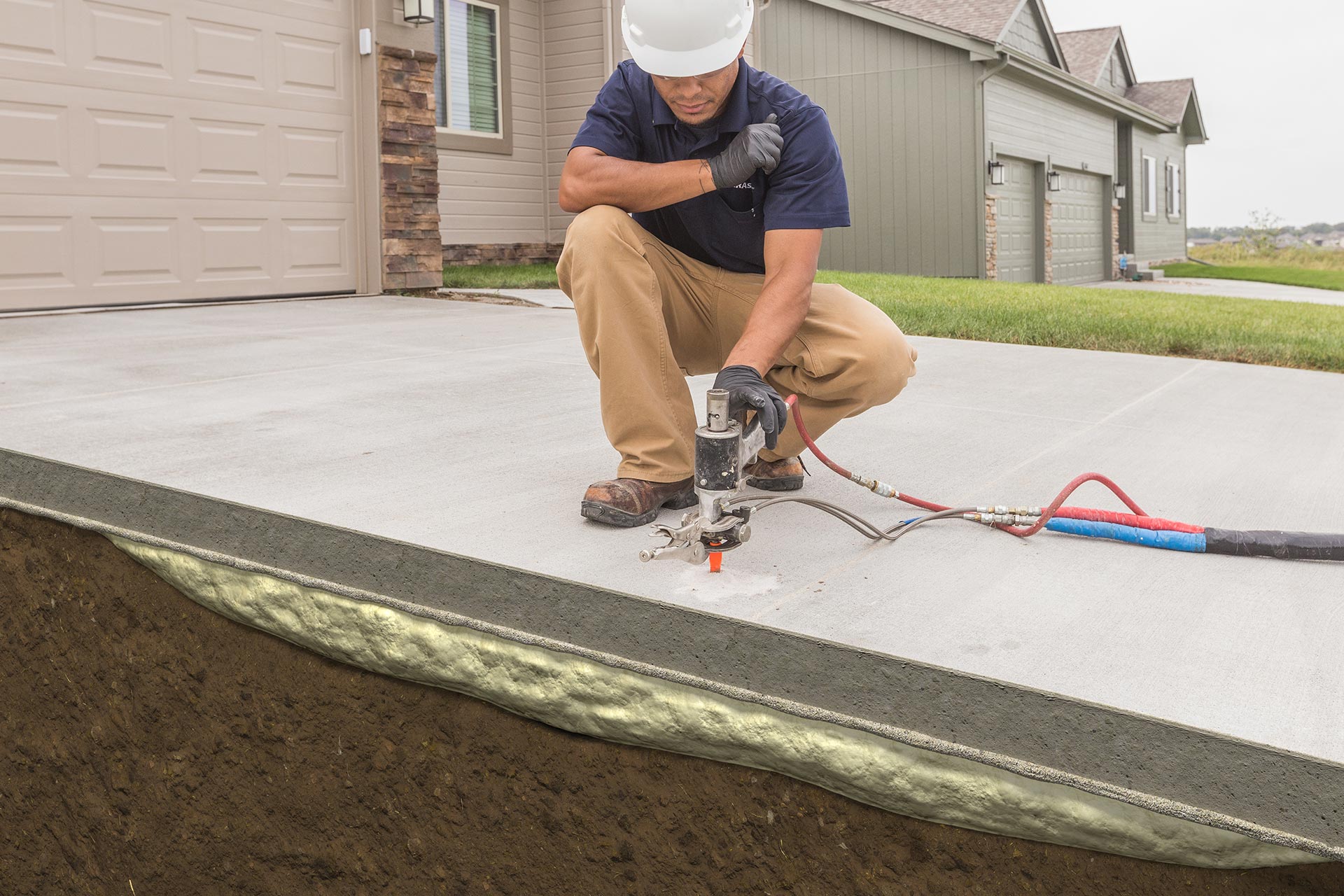 How Does Concrete Sink in Your Driveway?
The soil beneath your driveway is the biggest contributor to sinking or uneven concrete. When soil erodes, settles, or washes out, voids or empty spaces are created beneath your concrete. When there is no soil to support your concrete, it has no choice but to sink and fill those voids.
Clogged gutters, faulty downspouts, and poor yard drainage are a few of the most common ways soil erosion can occur. Heavy loads, like parked RVs, can force your driveway to sink or crack over time, as well. Keep in mind that a sinking driveway near the garage can cause foundation cracks and structural damage over time.
Our Experts Can Lift Your Uneven Driveway
While it's easy enough to address surface-level problems on your own, it's important to solve the underlying settlement issues, so the problem doesn't get worse over time. Regional Foundation & Crawl Space Repair offers concrete driveway leveling in Raleigh and has the products and expertise to solve any settlement problems your driveway may have.
Using PolyLevel®, our Raleigh concrete crack repair experts can inject durable polyurethane foam underneath your concrete through small holes drilled in the slab. Once your slab is lifted and stabilized, we'll patch the holes and fill any remaining cracks. Within a single day, you'll be able to use your driveway again.
Call or contact Raleigh's concrete driveway leveling experts at Regional Foundation today to schedule your free estimate if your driveway is sinking or settling.