Concrete Driveway Repair in Fayetteville 
Homeownership is one of life's greatest achievements. For many homeowners, the sight of cracks, sunken areas, and uneven patches in their concrete driveway can make them think they've made a poor investment. Still, others will dismiss these damages as a sign of natural settling and shifting. While the visible signs of cracks or unevenness in your concrete driveway should be addressed, doing so doesn't have to involve a full replacement or a lot of money. With our concrete driveway repair services in Fayetteville, you can restore your driveway's appearance and integrity with easy, affordable repair solutions. Our team of experts is ready to help you with our lifting and leveling services.
For free estimates on our Raleigh concrete driveway repair services, we service North Carolina, including Durham, Fayetteville, Greenville, Rocky Mount, Henderson, Elizabeth City, Apex, and surrounding areas.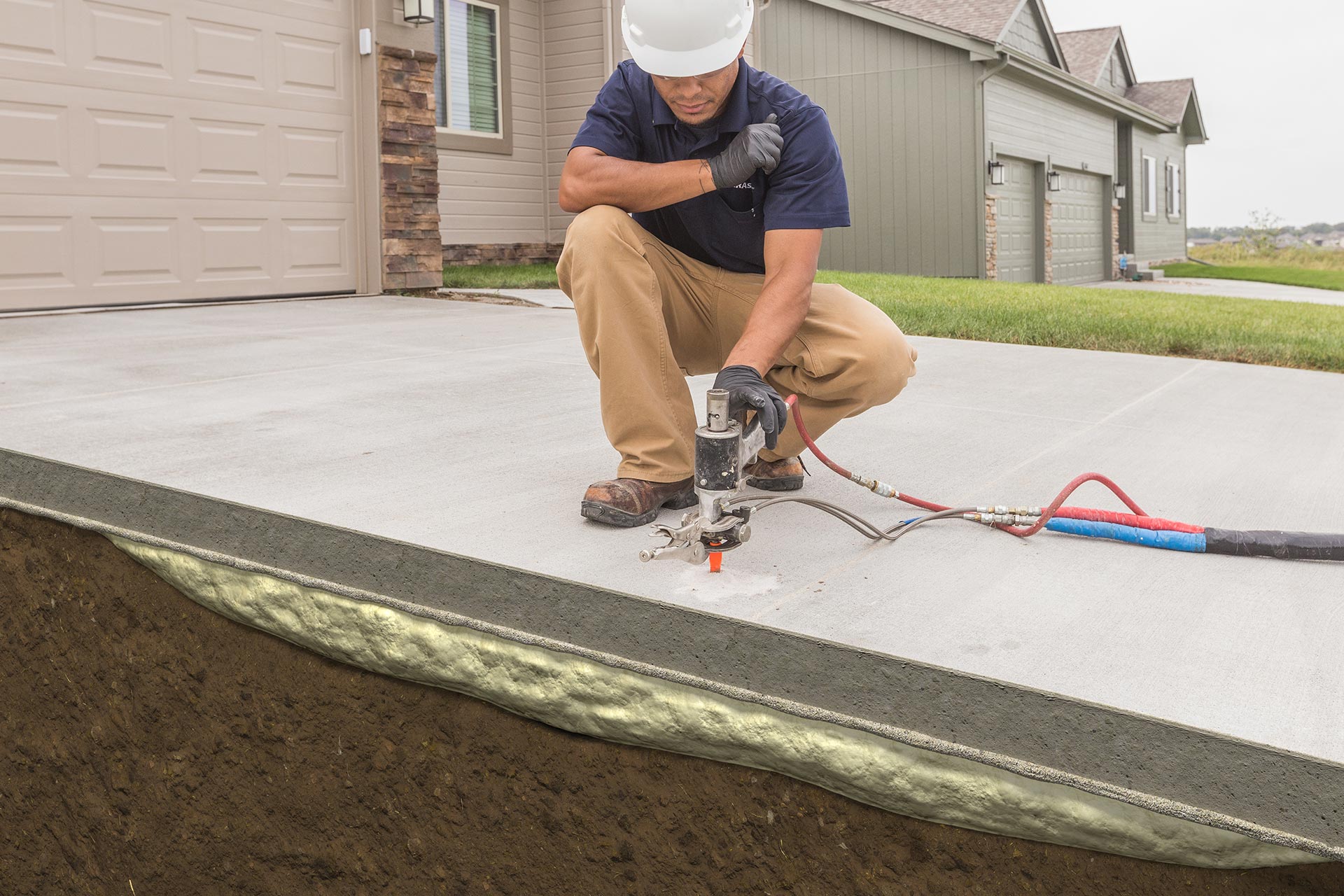 How Does Concrete Sink in Your Driveway?
When cracks and uneven areas start to appear in your driveway, it's not always necessary to go through the hassle, time, and expense of ripping out your entire driveway to pour a new one. Our team of concrete driveway repair experts in Fayetteville will identify the root cause of the damage and provide guidance on how the issues should be addressed. Excess water can puddle and pool on or near concrete surfaces. Your property will be inspected for any underlying issues with drainage or irrigation, clogged gutters, poorly placed downspouts, or soil erosion. Our experts will work to identify the cause of your driveway issues and offer repair solutions that will not only repair your driveway, but prevent the same problems from happening again.
Our Experts Can Lift Your Uneven Driveway
Our team uses PolyLevel® to raise the existing concrete to the correct, level position and repair the cracks in your Fayetteville driveway. PolyLevel® is a polyurethane foam that is injected through small holes that are drilled into the concrete slab. The foam expands and hardens, providing support for the driveway. The process is quick, effective, and more affordable than replacing your driveway completely. And you can use your driveway again the very same day! Don't live with a cracked and uneven driveway! Call Regional Foundation & Crawl Space Repair today for a free estimate for concrete driveway leveling or crack repair services in Fayetteville. 
Call or contact Fayetteville's concrete driveway leveling experts at Regional Foundation today to schedule your free estimate if your driveway is sinking or settling.