Greensboro Concrete Driveway Repair
Concrete Driveway Repair in Greensboro
Are you concerned about the state of your driveway? Have you been avoiding repairing your driveway thinking it's too costly or time-consuming? Uneven, sunken, or cracked concrete doesn't necessarily mean you have to replace your entire driveway. Regional Foundation & Crawl Space Repair can quickly and cost-effectively restore your concrete driveway's integrity and appearance for long-lasting results. Our experienced technicians for concrete leveling and crack repairs in Greensboro can return your driveway to good condition with innovative concrete driveway repair solutions.
Regional Foundation & Crawl Space Repair offers reliable, quality concrete driveway repair services in Greensboro and we can help no matter the current condition of your driveway. We know the importance of a well-maintained driveway for your safety and property value, and you can count on us for superior results and friendly customer care every step of the way!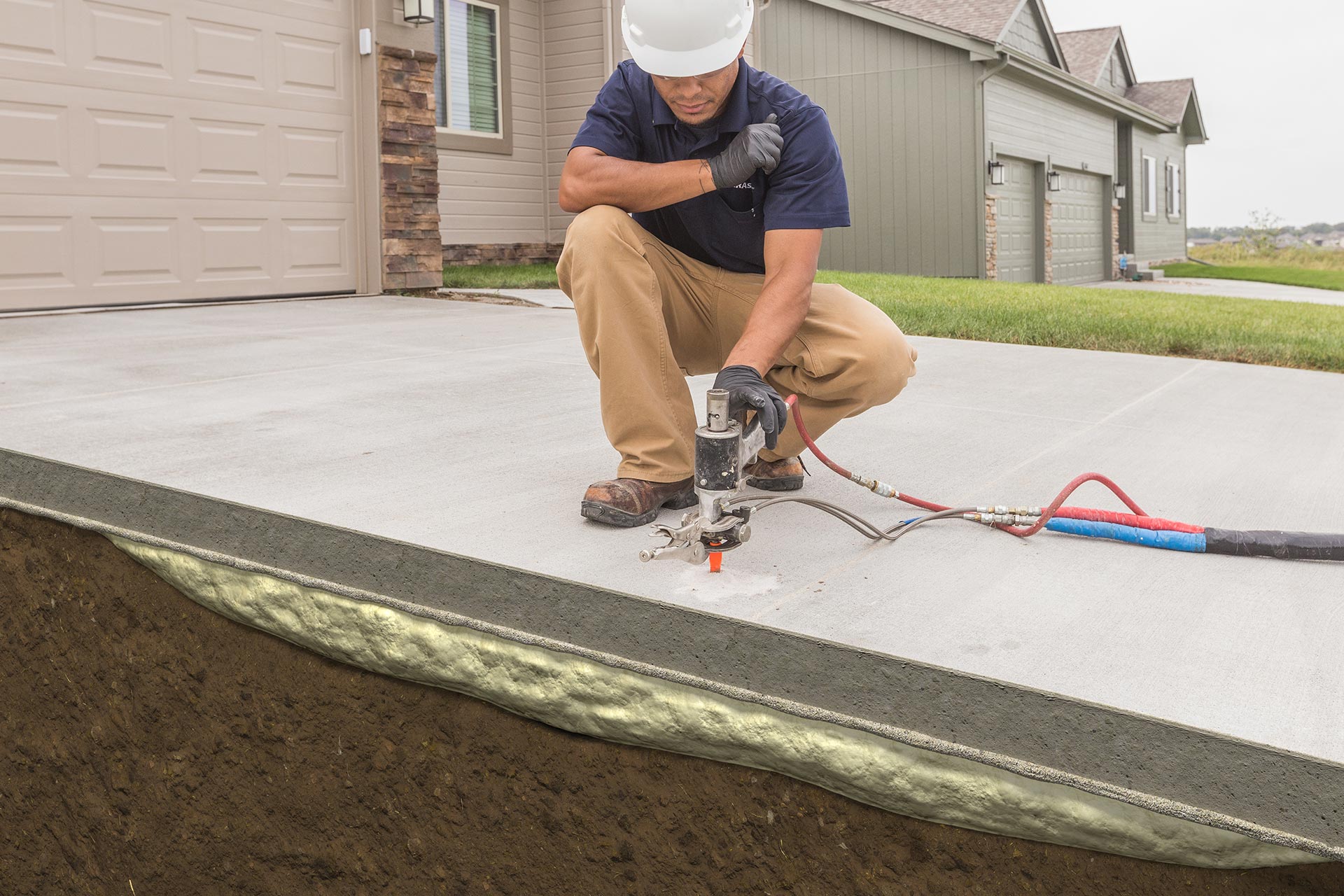 How Does Concrete Sink in Your Driveway?
Concrete slabs can sink for various reasons, such as moisture damage, soil settlement, and poor compaction, and driveways tend to endure damage from additional factors as well, like freeze/thaw cycles, chemicals like deicing salts and oil, the weight of heavy vehicles, and extreme weather changes. When the soil underneath concrete sinks or erodes, it creates gaps that can lead to the sinking or settling of the concrete. Poor site preparation before installation can also cause sinking. Water damage can saturate the soil, leading to movement of the concrete slab. Even well-built concrete driveways can show signs of wear and tear, so it's good to have an experienced Greensboro concrete driveway repair team on your side!
Our Concrete Driveway Repair Experts In Greensboro Can Level Your Driveway
The team at Regional Foundation & Crawl Space Repair offers a solution for concrete driveway repair that is both cost-effective and efficient: the PolyLevel® system. Using a high-density polyurethane foam, our professionals can lift and level sunken concrete slabs, restoring them to an optimal position. This method is much faster and less expensive than traditional concrete replacement, as it takes only a few hours and involves minimal invasive work. PolyLevel requires small injection holes in the slab, compared to the extensive tear-up and material removal needed for a full replacement. Overall, PolyLevel is a long-lasting repair solution that provides a stable, even driveway.
You don't need to endure a sunken or cracked concrete driveway—contact Regional Foundation & Crawl Space Repair today and ask for your free estimate on our Greensboro concrete driveway repair services!