Greenville Concrete Leveling
When concrete slabs like your driveway, walkway, patio, or sidewalk begin to shift and sink, it can ruin the visual appeal of your home. In addition, unlevel concrete can create water pooling problems and trip hazards that may endanger your family.
That is why you need to take advantage of Regional Foundation & Crawl Space Repair's concrete leveling services in Greenville, NC. We raise driveways, sidewalks, or pool decks using can quickly level and raise concrete slabs using PolyLevel, an innovative polyurethane foam injection system that provides long-lasting results.
PolyLevel: The Best Leveling Product on the Market
Traditionally, concrete leveling involves a process known as mudjacking or slabjacking. While effective, these methods have some major drawbacks. For starters, mudjacking makes a huge mess and takes over 24 hours to cure. The material used for mudjacking is also extremely heavy and requires contractors to make large holes in your concrete.
That is why Regional Foundation & Crawl Space Repair uses PolyLevel for our Greenville concrete leveling jobs. Unlike mudjacking, PolyLevel has a cure time of only 15 minutes. The material is also 1/50th of the weight of filler used for mudjacking. Another huge perk is that our team only needs to make a few penny-sized holes in your concrete in order to level it with PolyLevel.
As always, we have your best interest at heart with every project we take on. That is why Regional Foundation & Crawl Space Repair uses a great product like PolyLevel for our concrete leveling services in Greenville.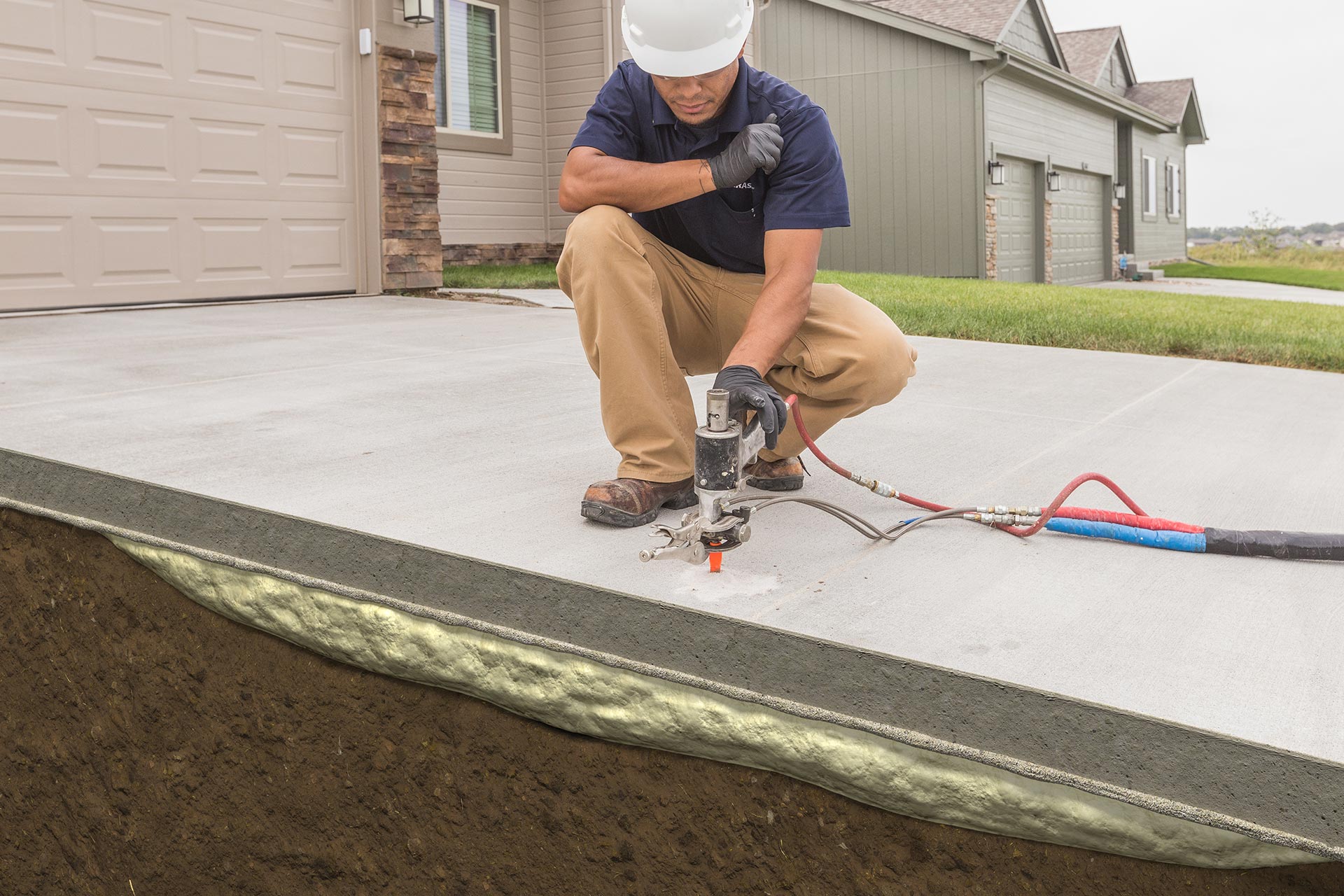 Structures We Can Fix
Regional Foundation & Crawl Space Repair has the equipment, skills, and experience necessary to raise and level just about any slab-on-grade concrete structure. A few of the structures that we can level include:
Concrete pool decks

Concrete floors and slab foundations

Patios

Porches

Landings

Sidewalks and walkways

Driveways
Didn't see your structure on our list? Don't worry; there's a good chance that our pros can level that too. To find out, simply call Regional Foundation & Crawl Space Repair and speak to one of our experts. We will provide you with a free consultation and estimate so that you can decide whether our services are right for your needs. Get your Greenville driveways, sidewalks, and pool decks leveled with Regional Foundation today!